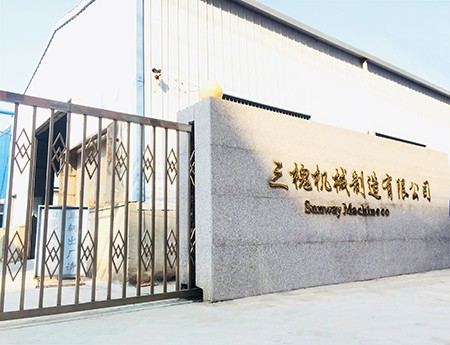 Sunway company has more than 20 years of development history, which is a trans-regional,cross-industry companies set research and development, manufacturing, trade in one , owning the Nigeria aogong Guangdong Free Trade Zone hewang packaging printing Co., LTD.
Nantong Tongzhou Sunway Machinery Manufacturing Co., Ltd. is a subordinate company of Sunway Company, with mechanical products manufacturing as the main body, focusing on the development and production of various mechanical products, mainly producing daily chemical machinery, pharmaceutical machinery, packaging machinery, food machinery and various stainless steel products.

Automatic aluminum-plastic composite packaging hose and automatic plastic packaging flexible tube production line, packaging hose printing machine, Packing hose drilling and sealing machine, Various types of packaging hose filling and sealing machine, Color strip filling and sealing machine and other hose production line equipment, vacuum emulsifying unguent machine, Vacuum homogenizing emulsifier, blender, Reaction kettle and other hose production line equipment.

Can be used for packaging hose, cosmetics, washing products, toothpaste, medicine, adhesive, shoe polish, food and other fields.

Products' research and developmet:

In the long-term production practice, production has been successfully developed several series of and dozens of packaging machinery and auxiliary machinery, now has formed a professional packaging systems engineering technology, can also according to the company condition of client, actual production condition and special requirements to design and manufacture packaging machinery scheme and give technical training to install and adjust.
Technology strength:

Strong technical force, set many professional talents in packaging machinery field in one, has excellent business ability, then form a chain of design, production, installation and debugging professional group.
After-sale service:

After entering the market with good product quality, we uphold the spirit of customers first, equipped with professional after-sales service professional groups, with rich after-sales service ability, to solve the worries of customers, to give the overall strength of the product service.
Technical cooperation:

All along, we have been focusing on digesting, absorbing and mastering the advanced processing technology and the cutting-edge technology of packaging machinery in the world, cooperating with many overseas companies, and having a profound understanding and rich cognition of the advanced international packaging technology.
Company carries forward the professional, credit, pragmatic and innovative spirit, taking the product is better, more cheaper, more thoughtful services and more customer satisfaction as the policies, welcomed by domestic and foreign customers. Products are sold in domestic market as well as exported to USA Japan Russia India Burma Italy France Australia New Zealand Indonesia Malaysia Nigeria Vietnam, Iran, Syria, Kazakhstan, Poland, Romania and other regions, highly praised by users at home and abroad.